The Owners
My Maison Chic Limited is headed by two sister-in-laws who luckily have a shared passion in chalk painting.
Anna is based in Chippenham, Wiltshire and has a husband, two small children and a hectic full time job. Sara is based in Shepton Mallet, has a partner, two children and a hectic full time job! My Maison Chic co-exists with everything else going on in our lives and adds that extra bit of colour and enjoyment when things can get a bit too mental. Sara is on the left and Anna on the right in the photo below - yes, we are real live ladies!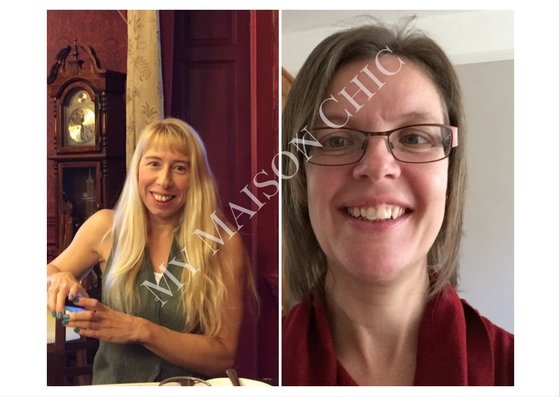 To relax after a busy working week, we like nothing better than to get out the paint brushes and transform some unsuspecting item into something colourful and beautiful. We often post what we are up to on our Facebook page so if you are not a follower, please hop over and take a look. Feel free to post comments and pictures.
We are a new micro business, so this is all new to us and we are still learning. From having our company registered, permission granted to be a stockist, a professional Logo designed and learning how to setup an online shop - its been a whirlwind!!
If you spot any errors on our website or social media (we are on Twitter, Pinterest, Instagram and Facebook see the icon links on the website) then please let us know.
We love receiving feedback and enquiries - thank you. However, we are a micro-business and have full time jobs and children so may not be able to respond to your query immediately. Please allow at least 24hrs for a reply and before chasing. Thank you!
We also need to extend our delivery timings and sometime close the on-line shop during the school holiday periods as we have children at home. This will be communicated via social media channels, so if there is something that you need before a major school holiday, then please be sure to allow enough time for us to get it to you so as to avoid any disappointment.
Anna runs all of the social media and website side of things, so if you have any issues or queries I am the one to contact since I wrote this webpage :-)
I aim to post to Facebook at least once a day with the other platforms 4-5 times a week. Please note that sometimes this is not feasible due to other commitments and the need to have some time out from social media - I'm sure you understand :-) If you have joined and followed any of our platforms but are not seeing regular posts, then please check that we are listed as preferred on your feeds. Facebook especially, has a knack go suddenly stopping sharing pages with fans that follow businesses.
How We Got Started
Having used many of the market brands over several years, My Maison Chic was born out of a hobby and a desire to test out the new non-waxing chalk paint that had arrived on the market - Everlong Superior Chalk Paint.
Everlong Superior Chalk Paint is designed for painting furniture, it is water based, low odour and child and pet safe (EN71-3 Compliant). It does not require any preparation* such as sanding and unlike other brands it DOES NOT require waxing.
It is durable yet can also be distressed to create an aged look. It is suitable for wood, plastic, metal, stone and brick and can be used outside. For more high traffic areas (such as table tops and kitchen units) we suggest you apply Everlong One Coat Sealer.

Colours on screen may vary from actual colours. To ensure you chose a true representation we advise that you use an Everlong Colour Chart.
Finding it quite difficult to purchase a small project pot - this sowed a seed that maybe it was possible to turn a hobby into something just a little bit more exciting and thus My Maison Chic was born.
Our Mission Statement
Our mission is to not only stock the fabulous Everlong products, but to also share our passion for painting. We hope to run free workshops and even have a children's party in the pipeline for September, so please keep an eye on social media for updates.

We want to offer outstanding service, so please feel free to
contact us
with any question, no matter how small. We will respond as soon as we can. You can also contact us via Facebook message.
We also have no bias towards any of the other chalk paint brands, so if you use their products then that's great too - we'd still love to see photos and hear from you budding crafters and up cyclers.
Above all, get your apron on and get painting :-)
If you'd like to see a short video of what its like to get a delivery at MMC HQ, then see below:
The Legal Bits
We are registered as a My Maison Chic Limited in England and Wales under Company Number 10279563

Registered Address: The Old Post Office, 41-43 Market Place, Chippenham, Wiltshire. SN15 3HR