Ordering Made Simple
We know when ordering paint, it can be incredibly difficult to know how much to order. Everlong Small Project Pots go an incredibly long way so one pot is plenty for most small up cycling projects.
As a guide, a 100ml Small Project Pot is enough to paint 2 coats on a standard size chair: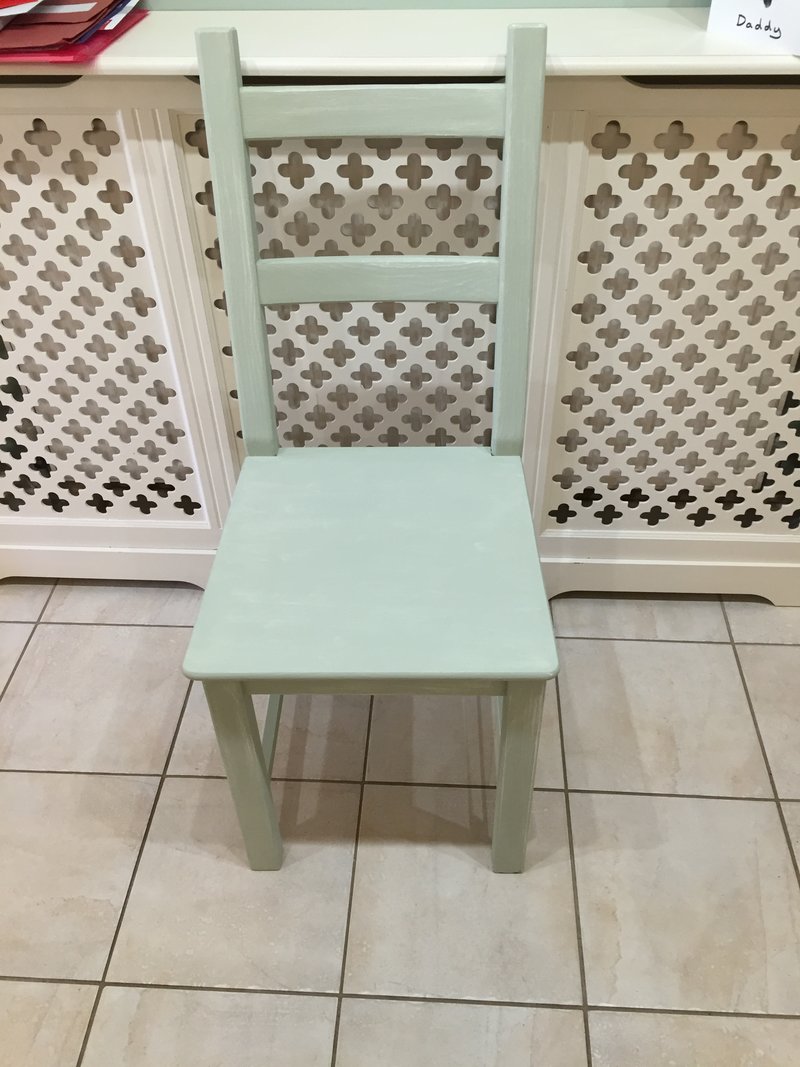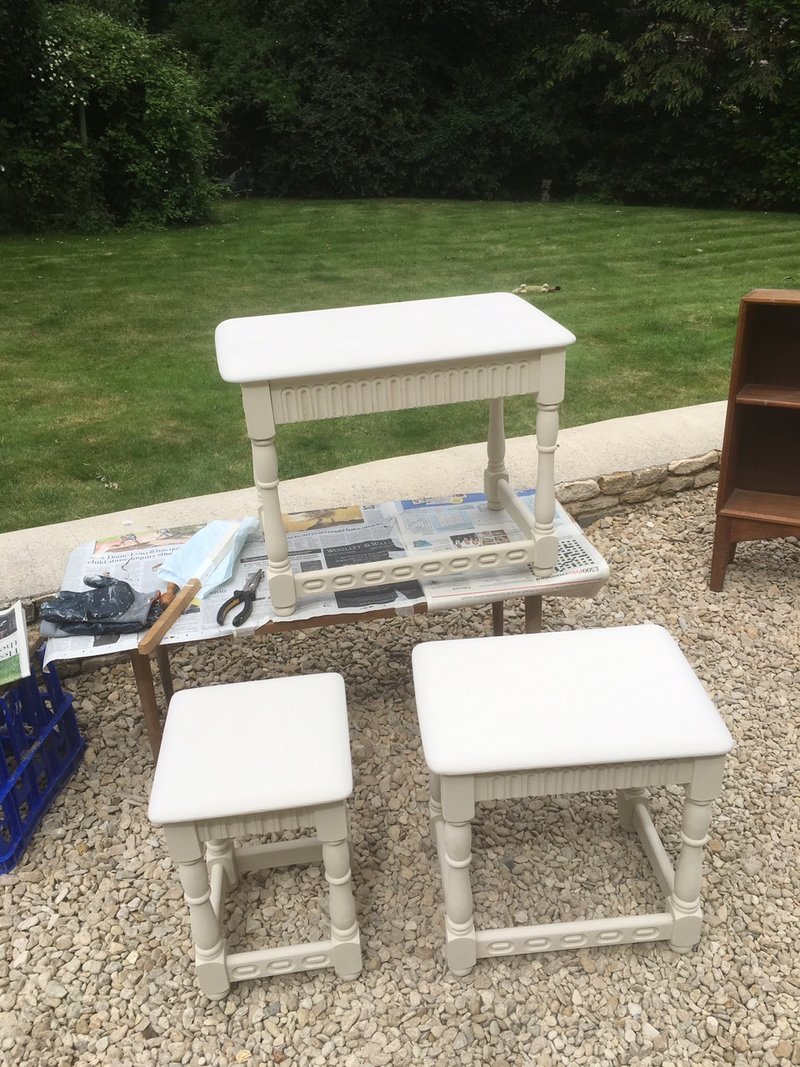 The chair above was a simple pine chair painted with two coats of Everlong Cricket Pitch.
One 100ml pot was also used for these three tables (excluding table tops):
When painting larger pieces of furniture like dressers, chest of drawers or wardrobes then a 1litre tin would probably suffice. The official blurb states:
Coverage Information:
100ml Small Project Pot = enough to do two coats on a standard chair* (See photo under Ordering section of website)
1 Litre = 12 square metres (enough for 2 coats on a large dresser)*
*General Painting Rules Apply. Please see our 'How to Guide' for more details
To get the best out of the coverage, apply 2-3 thin coats. Remember to clean any old furniture of grease and dust before starting and if using raw pine, use a suitable knot primer to ensure the knots do not bleed through. Usual painting rules still apply.
There is no need for sanding (unless the item to be painted has flaking paint). The added bonus is that there is no waxing needed either and paint brushes can be cleaned in warm soapy water.
For further instructions, please see our How To Guide
Stock Counts
Our website details the stock levels that we have available immediately. Please note that we do not have a stock room - we have a stock cupboard! A general rule of thumb (unless there has been a mad rush on purchases) we have the following in our stock cupboard:
We keep all the colours in stock in Small Project Pots size

We will have a few pots of the metallics and sealant

We will have one or two 1litre pots of the most popular shades namely Vintage, Earl Grey, Double Cream, Porcelain, Lady Grey, Castle Keep, Kingfisher

A selection of brushes
We do an order with Everlong when stock is running low, so if you are wanting an out of stock item, please contact us to see if we are placing a bulk order.
However, do not be put off if we do not have what you want in stock and you need it sooner than our bulk stock order - please contact us and we will be able to fulfil your order. We can place an order with the manufacturer in your chosen shade and then ship it to you once we have picked and re-packed it for you. Note, special orders like this will incur an additional surcharge of £1.50 as we have to pay £8.50 for each order and delivery we make - we do not make any profit on delivery.
For items that are in stock, delivery will take approximately 3-5 working days - this will be slightly quicker with courier delivery. For items that are not in stock, then this will take longer so please allow at least 5-7 working days.
Please contact us if you have any questions regarding stock, shipping and ordering before placing an order.
Flat Rate Postage
We charge a single flat rate for postage & packaging of
£3.99 for up to 3 Small Project Pots
that are shipped by Royal Mail.
For metallics, sealant, 1litre tins, and mixed orders, then we charge
£7.00
flat rate for each basket as we have to use a courier. We appreciate that this may sound expensive so lets try to explain:
1. Due to chalk paint being classed as a hazardous product, where pots or tins are over 150ml in size, we have to follow legislation to use a licensed courier to ship. Royal Mail is not able to ship single items larger than 150ml. Not all couriers have a license to ship hazardous products. We have talked to lots of courier companies!
2. The handful of courier companies that do have a license either charge £x by mile (which is ridiculously expensive) or have a minimum number of packages that have to be shipped each week or they close your account! We are still a very small business and so cannot guarantee the number of parcels that these companies need.
3. We found an accommodating courier company, but it still means that the cost to you is £7. Please note that the £7 does also include the packaging, box and bags. The cost to us for just the courier is £7.50 + mileage + box, bags, packaging - so we do still subsidise this cost.
4. We will continue to look at our shipping rates and work to break our customers the best possible value for money. The more we send by courier the cheaper the prices - so please tell your friends that chalk painting rocks!!
Payment
At this time, all payment for goods is via PayPal. Once you choose to checkout and pay for your basket, you will be automatically re-directed to PayPal to make payment. Invoices and receipts will be issued via PayPal. Since this system is automated, it is important that if you have any questions regarding your basket that you contact us before committing to order. You do not need to have a PayPal account to pay for your goods, you can log-in as a guest and pay using your debit or credit card.
Note: We do not accept PayPal e-cheques.
My Maison Chic does not store or take note of your payment details - this is all handled via the Third Party (PayPal) under their terms and conditions.
If you wish to pay using BACS, this can be facilitated, but you need to contact us before any order is made.
Your Details
When you order from us, you will automatically be added to our mailing list to receive email newsletters, offers and marketing material. If you would like to be removed from the mailing list, this can be done at any time by contacting us via email, FB messenger or using the contact us form.